Welcome to the official EL Vez world wide web site
sometimes if you click on a photo it'll get bigger
Hey El Vez Fans,

Happy Anniversary to Me!

This August 16th will be the 25th Anniversary of the first El Vez performance in Memphis Tennessee in 1988! That inaugural first step that launched the career and the website you are viewing right now! Its been a great quarter of a century. I have enjoyed being your Santa, President, Preacher, Teacher, Stripper, Political Lifter, Singer, Dancer, Prancer, Comet and Cupid.

A special thanks to all the musician, elvettes, promoters, artists and you the fans that gave me these wonderful years that allowed me the chance for me to perform for you.

- Gracias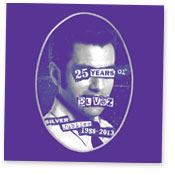 What better way to mark a landmark,
than with a new release!
GOD SAVE THE KING
25 YEARS OF EL VEZ
on MUNSTER RECORDS
MR CD 334. 24 tracks (darn I should have added one more) spanning the history of EL VEZ. Unreleased tracks, Remixes, live concert recordings, excerpts from my theatre performances. Check out the track listings on the DISCOGRAPHY section of this site. Its a great addition to any EL VEZ music collection.
GET IT NOW!
(see MERCHANDISE section)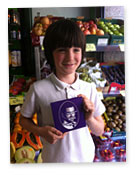 Here is a picture of Madrid's Number one EL VEZ fan Lukas being the first to purchase his copy of the new CD (see kids still buy CDS!) Which you can even buy in Super Markets there.
SUPER MERCADO indeed!
The EL VEZ Punk Rock Revue Tour
of Spain & Italy was fantastic!
The "Revue" was guitarist Diana Death opening the show by herself playing guitar. She is the only female Johnny Thunders impersonator! Which is great she being a girl playing a guy who dresses like a girl. Her band in San Diego is called CHINESE ROCKS.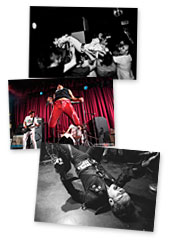 Then THE SCHITZOPHONICS took the stage. Where they wow'ed the audience every night! People really fell in love with them. They got signed to my old time company of MUNSTER RECORDS while we were there! So, keep an eye out for their release.
The the two acts joined to make the EL VEZ BAND. Performing an encyclopedia of 1977 and pre- Punk Rock Classics ranging from The New York Dolls, The Ramones, The Sex Pistols, The Damned, The Clash, Richard Hell & the Voidoids, Television, Patti Smith, Roxy Music, Iggy and the Stooges, The Zeros and of course ELVIS. All Mished and Mashed as only an EL VEZ show does, wrapped in break away costume and crazy dances moves! It was a great show!
Alas there are not any plans for a US tour of said show ……

Keep an eye out for the special USA TODAY - ELVIS PRESLEY special collectors edition out on news stands now. Featuring a big picture of yours truly. I got a way bigger picture then Bruno Mars did! We had worked together in Memphis many many years ago.
The new second EL VEZ RESTAURANT should open in Manhattan this Fall! It will be larger then the original space in Philadelphia. It will be located in the Goldman-Sachs building in Battery Park City.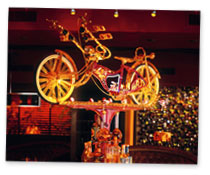 Now we have some place to eat while we occupy! Changing how Wall Street thinks…one bite at a time? Here is hoping.
EL VEZ 255 Vessey St. NY. NY
Christmas tour?
Have you been bad or good??!?!?
Gracias from Graciasland
your man

EL Vez Press Praise -
"Elvis con Salsa"
People Magazine
"El Vez is more than an Elvis Impersonator...
he is an Elvis translator, a goodwill ambassador
for Latin culture."
Rolling Stone
"VIVA EL VEZ!"
Dallas News - San Francisco Chronicle - London Evening Standard
"El Vez is the world's most intelligent Elvis Impersonator"
Chicago Sun-Times
"... viciously overrated"
Buzz Magazine

You want the EL Vez gift collection?
Check out the merchandise page

Mas oficial EL Vez información can be found
on the historia and contact pages


website by RRGraphics
All content ©2005 EL Vez Co.