Welcome to the official EL Vez world wide web site
sometimes if you click on a photo it'll get bigger
Hey Folks ... Ho Ho Ho!
Well i don't get to be President of
the United States of America, AGAIN!
So, I'll settle for being your Mexican Santa Claus for 2012. Yes, its that time of year again but more on that later. Let me fill you in on where we've been. Its been forever that we've had time to sit down and recap.
There was a tour of Spain and a Christmas tour of Europe. Was great to be back. It had been ten years since we had been to some of the German cities, 15 years since we had been in Gent, Belgium. Many great shows and perhaps too many Christmas Markets. I think it was marked down as the tour where we drank the most ever! Thank you all for turing out and still remembering us! We hope we can come back soon.
There was the debut of SEX, RELIGION, POLITICS & ME!
The EL VEZ LIVE SHOW re-written as a one man show theater piece. Its was fun and funny. It was well received. I loved when my pants got stuck and i was left flying in mid air in the harness. Guitarist John Morton tried to turn me by my elevated foot so i could face the audience but in doing so sent me into non-stop spin. I guess you had to have been there. To be determined if it will be mounted and sent around. Not every theater has a hoist lift…. we'll see.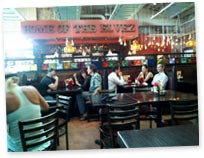 Here is a picture from my pal Daddy-o Grande of LOS STRAIGHT JACKETS. It his favorite Mexican Restaurant in Nashville, Tenn. They feature the EL VEZ Margarita (it taste just like me but not as "salty". at TACO MAMACITA. Not to be confused with the EL VEZ Restaurant in Philadelphia. There are also TMs in Chattanooga & South Carolina. Ask to taste me by name. Check out their menu. Congrats to Daddy-o on his speedy recovery! He is doing great! XO
The EL VEZ 4 PREZ campaign was a short one this time around. We concentrated on the mid west and the "swinging" states. Thanks all of you for showing your support! We ran out of EL VEZ 4 PREZ campaign buttons of course. I may not be Mormon but i did show off my "special underwear" and my "campaign trail".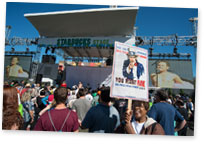 Here is a picture of my friend and one of my favorite singers from Atlanta Miss Francine Reed. She is showing her support while I take off my clothes on the jumbo-tron at the ever wonderful Seattle Bumper Shoot Music Festival. We ate Top Pot Doughnuts earlier that day! If she is ever in your town go see her!.
Thanks to Curt Doughty for the picture.
Some highlights from a campaign trail stop in Seattle. Thank you to film maker Deirder Timmons for the foot moments. She made "A wink and a Smile" the burlesque documentary that features all my lovely friends.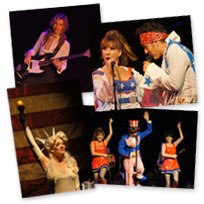 Special Thanks to Paula Sjunneson for playing the part of Miss Liberty! It was a great version of Jobriaths HEARTBEAT as sung to"America". Special thanks to Kristian Hoffman on the grand piano. The Statue of Liberty crowned me with my own Liberty Spikes and EL VEZ became Mister Liberty. Had loved that song since i was a teenager in Chula Vista.
Had a great time with Mariachi el Bronx in Los Angeles for Dia de Los Muertos.
A great new yearly event in Down Town LAs new Grand Park. I did a great traditional "strip tease" version of the classic Mariachi standard "VOLVER" with the full Mariachi Bronx and the lovely "red high heel" wearing" TRIO ELLAS, where in i stripped from a white gold embroidered mariachi suit into skin tight skeleton costume! Did anyone get it on their movie phone?!?
Here comes Santa Claus, here comes Santa Claus and perhaps its the FINAL COUNTDOWN if the Mayan are correct so come one, come all TIME HAS COME TODAY! THIS COULD BE THE LAST TIME…MAYBE THE LAST TIME…I DON'T KNOW. to the last EL VEZ MERRY XMAS SHOW!
TIME IS TIGHT and the Holidaze only allow us a short window of opportunity to perform. Alas the tour is only EAST COAST, WEST COAST and a little of the NORTH.
See the debut of our NEWEST ELVETTE!
Daughter of one of the original pre-live band (we used karaoke tapes we bought at Graceland) Elvettes but also feature in the MUNSTER RECORDS- EL VEZ IS ALIVE! Live at Roskilde-Denmark! recordings, formally known as ALICE BAG from the LA 70's Punk Rock Band THE BAGS!!!!!! any how……her daughter will be in the new MEX-mas line up! its OFFICIAL EL VEIJO has gone GENERATIONAL! But still EL VEZ remains the same…………….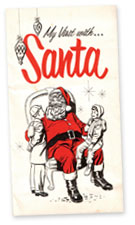 SO…since this may be your last time to take a SANTA PHOTO with SANTA EL VEZ
... sign up now!
... only 10 people per city!
Ten lucky folks will come back stage meet the Memphis Mariachis &the Lovely Elvettes & the one & only EL VEZ for a end of the world photo op!
A signed, framed portrait of you and @ the max 2 extra friends. For a picture that could last till the end of time ... which could be soon! Act now, only 10 photos per city at $10 so sign up as soon as you can at elvezco@aol.com Tell us your name and what city we will me you at ... we will email you back with your confirmation code. Photos are taken 30 minutes prior to EL VEZ show time.
And finally an early Mex-mas gift!
Your very own EL VEZ ringtone
It was sent to me by an EL VEZ fan. i hope it works for you in a format you can use. Enjoy your Christmas as if its your last and if it isn't ... you had a good time!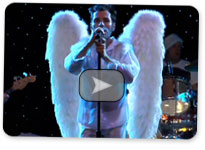 Pre P.S. - since you've been nice,
here is another gift, a sneak peek
of EL VEZ as featured in
Jingle Bell Rocks! ... an exclusive backstage pass into a fascinating underground world of alternative Christmas Music!
Visit the film's website for more info about the film: jinglebellrocks.com
Feliz Navidad all year long!
TCB
XO

EL Vez Press Praise -
"Elvis con Salsa"
People Magazine
"El Vez is more than an Elvis Impersonator...
he is an Elvis translator, a goodwill ambassador
for Latin culture."
Rolling Stone
"VIVA EL VEZ!"
Dallas News - San Francisco Chronicle - London Evening Standard
"El Vez is the world's most intelligent Elvis Impersonator"
Chicago Sun-Times
"... viciously overrated"
Buzz Magazine

You want the EL Vez gift collection?
Check out the merchandise page

Mas oficial EL Vez información can be found
on the historia and contact pages


website by RRGraphics
All content ©2005 EL Vez Co.