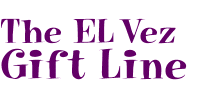 Your search for the Holy Grail continues here...!
Slightly still hard to get via our site.
We will try our best to fill your orders.
Live shows are still the best way to get
your hands on the official El Vez Merchandise.

EL VEZ 4 PREZ buttons
$2.00

What's new -
not quite so new what's new stuff:
Graciasland Records' first brand new release
Sno-Way José
only $10
Plus: It'll knock you out better than a Mike Tyson uppercut, check out all the new Boxing With God goodies ... a little further on down this page.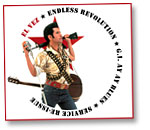 Endless Revolution
G.I. Ay Ay Blues • Service Re-Issue
re-issue plus bonus enhanced cd loaded with
rarites, videos, photos, lyrics, stories ....
now available at shows, selected record boutiques
and right here on-line
click here for content details
The Music:

You can find all the records of El Vez listed
(with full color pictures) on the discography page.
All the CDs are $10 (except for "G.I. Ay, Ay Blues" which is $15)
plus shipping and handling.
The 45's are $5 plus shipping and handling.
The specialty 10" and 5" are $8 plus shipping and handling.
Most of the stock is available, but the following are out of print:
El Vez the Mexican Elvis - 45 single, Sympathy for the Record Industry SFTRI 111
Not Hispanic - LP album, Munster Records MR 024
Santa Picture Disc: Mamacita Donde Esta Santa Claus?(disco version) - Karin Records
Like a Hole in the Head - El Vez picture disc, Sympathy for the Record Industry
At the moment we don't have access to "El Vez is Alive" and
"Never been to Spain, Until Now!".
The Videos: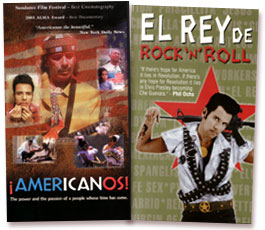 selections from the award winning (that's right, you read it correctly, award winng) El Vez video collection are now available for your audio visual pleasure!
¡Americanos!
HBO documentary hosted by Edward James Olmos. "... provocative and entertaining documentary that celebrates the Latino experience in the United States. From the Dixon, Illinois lowriders to the ultimate Latino El Vez ..." (says so right on the box!)
2001 ALMA Awards: Best Documentary
Sundance Film Festival: Best Cinematography
¡Check out La Raza!
SOLD OUT
El Rey de Rock 'n' Roll
"With his pencil thin mustache, glossy black pompadour, and come hither eyes, El Vez may not have the exact Elvis look, but he definitely has the feel. With songs like "You ain't Nothin' but a Chihuahua", "En El Barrio", and "Lordy Miss Lupe" he changes the original Elvis lyrics to tackle issues regarding Mexican social and political consciousness in addition to safe sex, anti homosexuality, anti racism, gang violence, drug abuse, and more. Literally translated El Vez means "this time" and this time is truly his time to shine in the spotlight."
Baltimore Film Festival: Grand Jury Best Documentary Feature
SOLD OUT

The T-shirts:
Sorry, but all Ts are SOLD OUT
Boxing With God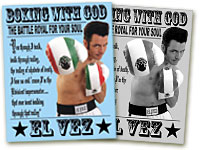 "Yea though I walk, walk through the valley, the valley of shadow of death. I fear no evil 'cause I'm the Elviest impersonator that ever went walking through that valley."
Baby-t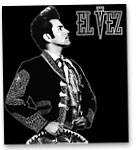 Black baby doll ladies t's with El Vez - dreamy!
small medium and large
Gospel
Black T-shirt- El Vez in his white '68 Comeback Especial suit.
El Vez emblazoned in red glittering dot letters behind him.
The Gospel Show, El Vez written below that. El Vez is written in Gold letters.
'68 Comeback Especial
White T-shirt- El Vez in his white '68 Comeback Especial suit,
points to the symbols of the religions of the world. Gold star burst surrounds him.
The Gospel Show, El Vez written below that. El Vez is written in Gold letters.
The back reads: "A Judeo-Christian, Zen-Buddist, Krishna Consciousness,
Aztec Sacrifice, Jewish, Santeria Gospel Show... this ain't no church picnic!"
Che it Loud
Red T-shirt- El Vez as Che! The star in his pompadour.
"Che it Loud", El Vez the Mexican Elvis reads below.
The back reads: "If there is any hope for America it lies in a Revolution.
If there's any hope for a Revolution it lies in Elvis becoming Che Guevarra" - Phil Ochs
Graciasland
White T-shirt - The cover of the "Graciasland" CD (see discography)
from a painting by Jon Bok.
El Vez is Alive (Sol)
White T-shirt - The cover of "El Vez is Alive" CD (see discography)
modeled after the weekly world news.
The other stuff:
Lock of Hair
Authenticated lock from the king's very own head!
Complete with deluxe ziplock bag!
$3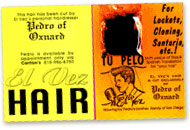 El Vez Posters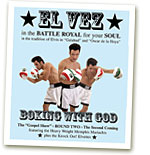 Boxing With God posters
$1.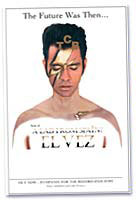 Own genuine, real authentic El Vez historical documents!
Enjoy the reassuring gaze of El Rey 24/7 for pocos pesos.
Liven up your living space. Perfect for any decor.
The king sized "A Lad From Spain?" CD Promo Tour posters
are only $3 ($2 each for orders of 2 or more)
The colorful mas chico poster on the right commemorates
The King's last España tour of the millininy and can be yours
for a paltry $3 (still $3 for orders of 2 or more)
Sorry - the poster on the right is sold out
Also available are El Vez Gospel posters.
$1
El Vez Mouse Pads
SOLD OUT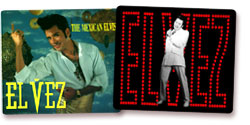 Let El Rey guide you through your computations!
Treat your mouse to these lovely pads featuring reproductions of the very first disco ever by El Vez (left) and the poster photo from the legendary Gospel Tour
8" x 7 1/4" (or something like that)
$10
El Vez Portraits
Black and white 8 x 10's of El Rey for your home, office,or place of worship.
Photographs by Randall Michelson and Greg Gorman.
El Charro; The Revolutionary; profile in jumpsuit with microphone;
black background, gazing heavenward; black background, winking at you;
white background close up.
$3 each, full set of six plus surprise $15
El Vez Pencils
SOLD OUT
Mylar-like prism effect pencils embossed in white with EL Vez The Mexican Elvis. $1


El Vez Fabric
An actual swatch of fabric from an item of clothing worn by El Vez, backed on an info card. $3
Other items will be re-available soon,, song books, etc.
The long awaited specialty "Graciasland" 8-track
Now available!
SOLD OUT
$15


shipping and handling applies to all purchases,
subject to quantity and distance,
we'll tell you how much.
to order send an e-mail to:
elvezco@aol.com
we will tell you what's available etc.,
and send it off to you as soon as possible